We practice expert veterinary medicine delivered by our caring doctors and technicians
Blue River Veterinary Services is a full-service animal hospital and wellness center. We provide in-house surgeries, a full range of diagnostic laboratory services, and a complete pet pharmacy.
---
Wellness Exams
We recommend a complete physical exam for your pet on a yearly basis. Lots of changes can occur from year to year, especially as your pet gets older.
Preventative health care recommendations are made based on examination findings and your pets individual needs and situation, which you help us to determine. We'll advise you concerning vaccinations including rattlesnake vaccination, parasite prevention programs, puppy and kitten examinations and nutritional needs.
---
On-Site Laboratory
Our on-site laboratory allows us to perform diagnostic lab testing to help us determine the best treatment plan for your pet's medical condition. Laboratory analysis includes blood samples, urine samples, parasite examinations for immediate results and we maintain a close relationship with an outside diagnostic laboratory service for their assistance to evaluate some of the samples that we collect which need a more comprehensive evaluation.
---
Advanced Radiology
We are fortunate to be able to offer our patients a new advancement in radiology equipment. A direct capture radiograph machine allows us to capture a digital image on a computerized panel and can be seen within seconds on a laptop computer screen. This eliminates the delay in diagnosis, which is especially critical in the case of a fracture.
---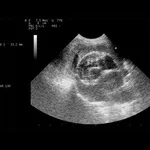 Veterinary Ultrasound
Ultrasonography is used to evaluate soft tissue structures. It is excellent for reproductive evaluation and pregnancy diagnosis. This machine can also be used to view large structures, such as organs, or to evaluate swellings. It allows us to image parts of the body where we need more detail, such as joints, tendons and ligaments. This machine is portable and can be used on out calls.
---
Dental Services
Pets with routine dental care typically live longer and healthier lives. Pets with dental disease constantly release bacteria from their mouths into their bloodstream (i.e. bacteremia), resulting in inflammatory changes in the heart, liver, and kidney tissue in otherwise healthy animal. This problem may be exacerbated in pets that already have other existing disease.
---
Nutritional Counseling
We offer Nutritional Counseling not only to maintain your pet's proper weight, but also to help with common allergies and certain disease processes (kidney, liver, and cardiac conditions), as well as specially formulated food to help with dental care.
Many owners do not realize that their pet may be overweight. Weight and nutrition are important aspects of pet care and they should not be overlooked. Overweight pets face several dangers such as: heart disease, painful joints, increased risk of arthritis, increased risk of diabetes, and problems during anesthesia and recovery from surgery. Pets with healthy weights can live up to two years longer!